• Consistent superior quality from one order to the next
• Machine twist for strength and smooth finish
• Complete selection of colors
• True sizes in accordance with government standards
• Durable double-end spools
• Economical - more yards per spool
• Spool sizes available: 100 yd - 1 oz., 4 oz. See catalog for yardage.
N.T.P.
Available in Sizes A, B, C & D
No color preserver is required on this strong, durable, opaque nylon thread constructed of DuPont®'s top quality high tenacity mid-dull yarn. Your favorite rod finish may be applied directly over the completed thread design. National N.T.P. is the premier choice of rod manufacturers, rod building professionals and hobbyists.
| | |
| --- | --- |
| | |
Metallic
Available in Sizes A & D (Colors 001G and 001S in size D only)
Made of high quality metallic gimp yarns, this very strong and durable specialty thread adds highlights of glitter and sparkle to the custom rod.
Regular Nylon
Available in Sizes A, B, C, D
(Not all colors available in all sizes)
The thread of choice for wrapping guides, base wraps, decorative butt wraps, as well as for tying bucktails and jigs. Made of bright Dupont yarn, this regular nylon thread becomes translucent when coated with finish unless sealed with color preserver.
New color chart coming. Call for available colors.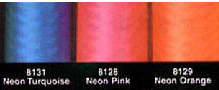 NOTE: The following is a partial color chart and will be updated at a later date.