Rod Components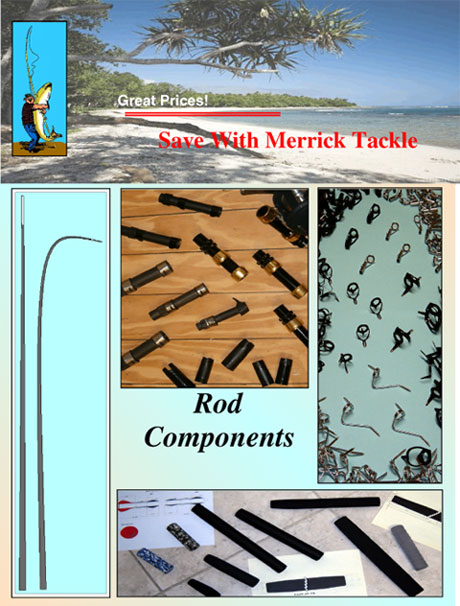 Guides From:

Our own economical
Merrick Tackle Guides
Arcane
Aftco
All American
CUI
Dinah Flo Metal Ring
Foulproof
Fuji
Hopkins & Holloway
Mildrum
Pacific Bay
Perfection
R.E.C.
Recoil

Reel Seats From:

Andrews
Aftco
Bellinger
Cork Puppy
CUI
Emperors Choice
Fuji
Lakeland
Matagi
Merrick
Pacific bay
Perfection
Pro Gear
R.E.C.
Struble
Abalone Shells from Kevin Knox
Click on image to see larger view.
Sheet Size:
24cm x 14cm
(approx. 9" x 5 1/4")

Approximate Thickness:
Tachy Mop = .05mm

Easy to cut ....
Laser
Hobbyist Tools
Paper Cutter
Scissors
Exacto Knife
Scratch Resistant and Flexible
Special Important Note:
Please do not order expecting an exact match of the color or the pattern shown in these samples. The samples are only intended to give you an idea of the color and a resemblance similar to what you will receive. Please remember that this material is made from the shells of actual live creatures and no two are ever going to be exactly alike!
---
Click on image to see larger view.
Rod Grips:
XGrip
Leatherlike™
Rod Wrap
Triangle Mooseskin®
Korkalon
Pre-Shaped Cork & Cork Rings, Including Burl
Cork Veneer & Cork Tape
EVA
Flocked
Twisted Spiral Mooseskin®
Fuji
Hypalon
Leather
Wood Handle Kits
Colored Mooseskin®
Quick Grip (see below for a full description)
Plus our own dense foam Velvet Touch Mooseskin® Grips
Sharkskin
Camo Mooseskin®
Cork
Rail Rod
Rod Armor
Whirlpool Mosseskin®
Plus:
Butt Caps & Gimbals
Hookkeepers
Custom Handle Kits
Metal Ferrules
AFTCO Unibutts
Winding Checks
Gimbals
Pac Bay Splash & Illusion Components
---
Quick Grip is a synthetic material designed to take the place of the cork tape rod handle grips. It's totally resistant to damage from salt water, ultra-violet rays, and even acids! It's quickly and easily installed on new rod blanks, and even over existing cork tape handles.
Quick Grip is a seamless sleeve, available with Inside Diameters of .75, 1.0, 1.25 and 1.5 inches. The .75 inch ID is usually best suited for new graphite surf and boat rod blanks, the 1.0 or 1.25 inch size is best for heavier fiberglass rod blanks and the 1.25 inch size fits over most existing cork tape surf rod handles and even some reel seats, making it possible to install Quick Grip as a foregrip without having to rebuild the entire rod.
When Quick Grip is heated, it shrinks to less than half of its original inside diameter without any change whatsoever in its overall length. At the same time, the thickness of the material increases proportionately, making for a sturdy and durable rod grip.
A heat gun, low-flame propane torch, or even a powerful hair dryer is all it takes to do the trick. Simply cut the Quick Grip sleeve slightly longer than the desired length. Apply heat (working from the middle toward either end eliminates any chance of bubbles), let it cool, trim the ends with a single-edged razor blade and that's it.


Any number of textured effects can be created or combined by preparing the rod blank before the Quick Grip is installed. In this example, 50-pound-test monofilament line has been diamond-wrapped along the length of the handle, glued in place, then the Quick Qrip was heat shrunk to fit.
"X" Rubber Shrink Tube
Easy to install rubber shrink tube with the added texture of flocking. Sold in 5'6" lengths, this tubing comes in 4 different ID's. Color: Black.

No.

I.D. (mm)

RSTX787
RSTX984
RSTX118
RSTX138

.787
.984
1.18
1.38