•Fuji
•Aftco
•Hopkins & Holloway
•Pacific Bay
• Arcane
Ferrules
Stripping Guides
Winding Checks
•Grips
•Cork Grips
• Custom
Components
•Wood Hosels
•Aluminum
Winding Checks
•Fuji Painted
Reel Seats
•Custom Hardwood Grips
•Wood Handles
•Mooseskin® in Color





Grips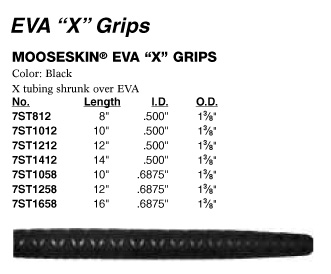 ---

---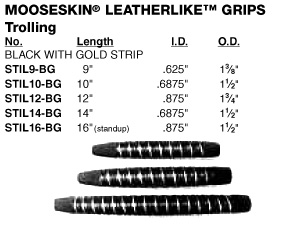 ---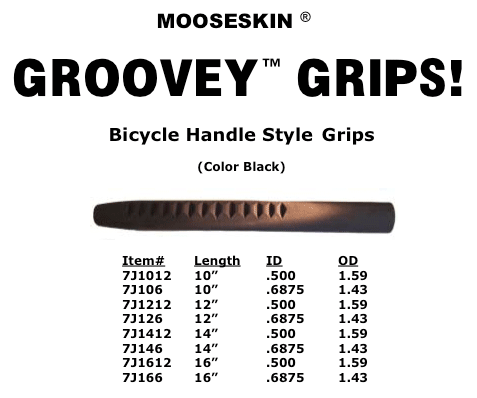 ---
MOOSESKIN IN CAMO
Mooseskin® is a custom blended high-density EVA, as light as cork and has the same feel as cork. It does not absorb water and is not spongy like other EVA. The best quality - often copied - never equaled! Only available in 24" lengths, can be cut to desired length. See catalog page 45 for our entire line of colored EVA.
BC – Blue Water Camo


GC- Green Marsh Camo


AC - Arctic Camo


Item No.

Length

I.D.

O.D.

7C2412
7C2458
7C2434
24"
24"
24"
1/2"
5/8"
3/4"
1-1/4"
1-3/8"
1-1/4"
Mooseskin®/EVA


Wood Grips

Many colors to choose from:


Top row: Blue/Black Grain, Sky Blue, Gray

Middle row: Green, Kokalon, Black/Gray Grain

Bottom row: Light/Dark Brown Grain, Gray/Black Grain, Black/Red Grain
New EVA colors: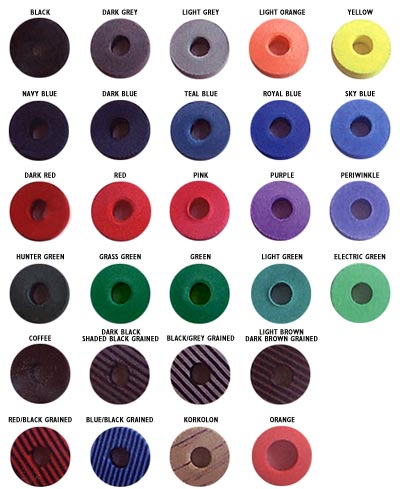 Many shapes:


oval, straight, tapered, standup, Big Game, Twisted™, contour

Many lengths
---
Hypalon

Colors:
black, red, green, blue, brown

Shapes:
oval, straight, taper

Many lengths
---
EVA

flocked
leatherwrapped

We also stock EVA block in 16 different colors.
TRIANGLE™ MOOSESKIN®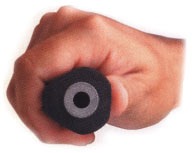 Triangle shaped EVA for surer grip and less wobble. Color: Black.
No.
7Z612
7Z838
7Z1012
7Z1058
7Z1312
7Z14116
Length
6'
8"
10"
10"
13"
14"
I.D. (in.)
1/2
3/8
1/2
5/8
1/2
11/16
O.D. (in.)
1-1/8
1-3/8
1-1/4
1-1/4
1-1/4
1-1/4