•Fuji
•Aftco
•Hopkins & Holloway
•Pacific Bay
• Arcane
Ferrules
Stripping Guides
Winding Checks
•Grips
•Cork Grips
• Custom
Components
•Wood Hosels
•Aluminum
Winding Checks
•Fuji Painted
Reel Seats
•Custom Hardwood Grips
•Wood Handles
•Mooseskin® in Color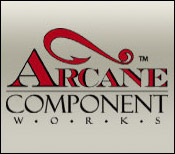 Ferrules


The ACW Titanium Perfect-Fit Ferrule
The ACW Titanium Perfect-Fit Ferrule is the post-modern solution to the age-old conundrum: Where do I find a ferrule that is ultralight, corrosion-resistant, impeccably styled, and ... pre-fit? Yes. We mean that these ferrules are delivered to you with no lapping required. The fit is snug; the pop is professional.

After intensive research, the Arcane engineering team selected medical grade ELI titanium. Extra Low Interstitial titanium is renowned for its lower oxygen content which provides for better elongation. In turn, better elongation means superior flexibility and durability, assets that can be appreciated in products ranging from bone screws to ferrules.

Titanium boasts a strength-to-weight ratio of 4.17 times that of nickel silver. ACW Titanium Perfect-Fit Ferrules require 50% less mass than comparable nickel silver ferrules, only 0.165 oz. per whole-set.

ACW's Titanium Perfect-Fit Ferrules are serrated for Hexagonal rods, though some of our GW clients have put them to use on Pent rods.


The ACW Nickle Silver Ferrule
Arcane's nickel silver ferrules (shown above) are machined from solid 12% nickel silver bar stock. These ferrules feature simple, traditional good looks in the ever popular Swiss-style.

The females have a simple welt and the males have a single, decorative groove machined in the center of the shoulder. These ferrules have won popular approval because they combine exceptional affordability with the highest quality machining. Due to the high volume of production and innovative machining techniques, Arcane can offer these ferrules at prices far less than tube-stock ferrules. What's better than a beautiful, superbly-functional product that costs less? Only ice cream. And maybe not even that. AVAILABLE IN SIZES 10/64-16/64.