The following article appeared in the
March 2008 issue of TackleTrade World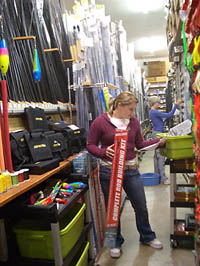 FISHING TACKLE shops in 59 countries are netting 100 to 200 per cent mark-ups on custom fishing rods, according to Scott Greenberg of Merrick Tackle in Shandaken, New York.
"Custom rods are a way for smaller stores to compete," says Scott. "You're not going to see those rods in a big-box store, and a lot of small stores can double or triple their profit."
Scott's father, Roy, founded Merrick in 1959 on Long Island, New York. The company evolved from a single retail store that sold marine supplies, cutlery and tackle to a three-store, mail-order operation. Scott has been working with his father for 30 years.
About 16 years ago, they closed the retail stores, moved to the Catskill Mountains, and began a wholesale-only business, specializing in custom rod-building supplies. Scott took the helm last year when Roy retired (although he still works part-time). They have customers in all 50 US states and 58 other countries. Because the company's roots are on Long Island, the majority of its sales are for saltwater gear.
Fifteen employees handle more than 40,000 stocked items. "In rod building, there are lots of bits and pieces," says Scott.
His customers include tackle stores and custom builders in small workshops. Custom rods, says Scott, distinguish small stores from large chains. Stores that offer rod-building classes have found a way to generate sales during the off-season. Customers who buy components to build their own rods are like fly tyers, always seeking new materials and components to improve performance.
Rod blanks and components have seen tremendous improvements since Roy Greenberg founded the business. Especially popular now are Fuji guides and two-piece, English- style surf-rod blanks, designed for distance.
Scores of veteran rod builders attend Merrick's annual dealer show every autumn, and the distributor offers free advice to its customers. "We take calls all day long," Scott says.